Tyler pair taking major trips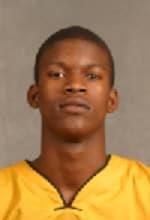 The Apaches of Tyler Junior College lost a triple overtime game to Panola College in the Region tourney 123-121 to end their season. The Apaches have one player in
Joseph Fulce
headed to Marquette next season while 6-foot-10 (240) Canadian
Jamie Vanderbeken
and 6-foot-6 (215) freshman
Jimmy Butler
are still taking visits. Fulce averaged 16.6 ppg and 13.1 rebounds in his one season with the Apaches.
Vanderbeken visited Iowa State University a few weeks back wand ill trip to Storrs, CT this coming weekend according to head coach Mike Marquis.
"Jamie will visit UCONN this weekend and then play in the NJCAA National All Star game in Arizona the following weekend," said Marquis.
Jamie committed to the University of Iowa coming out of high school in Canada. Vanderbeken averaged 14.1 ppg, 9.1 rebounds and 3.3 assists. He shot 56.6% (161-284) from the floor.
Butler will head to Starkville, MS this weekend and visit the Bulldogs of Mississippi State University. Butler visited Iowa State with Vanderbeken a few weeks back. Butler will have three years left to play at the next level.
"Jimmy is a 2/3 man that is very athletic," said JucoJunction staff member Bret Swanson.
Jimmy led the Apaches in scoring at 18.1 ppg , 7.7 rebounds and 3.1 assists while shooting 54.8% (177-323) from the floor.